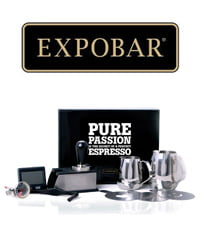 Professional Barista Kit – £115.00 exc. V.A.T.
This professional grade kit contains everything a Barista needs to make the perfect espresso-based drink. The boxed kit consists of 2 x stainless steel milk frothing jugs, a tamper and tamper stand/mat, a milk thermometer with clip, a digital shot timer, a group head cleaning brush and 3 chocolate topping stencils. Supplied in a presentation box making it a great gift idea for coffee lovers!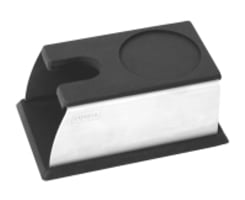 Coffee Tamper Stand – £28.00 exc. V.A.T.
The practical tamping stand helps to optimise tamping pressure providing an even better extraction of your favourite coffee. Made from heavy gauge stainless steel with tough working areas which will keep the group handle steady for tamping and keep the spouts from ever touching the work surface, which in turn helps keep coffee grounds from ever touching the spouts and ending up in the cup.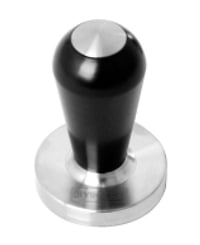 Coffee Tamper – £41.00 exc. V.A.T.
High quality stainless steel tamper designed to fit perfectly with all the Expobar group handles. Weighing in at 420g for easier tamping pressure with a convex base for better water distribution across the coffee for an enhanced espress shot. Base diameter is 58mm.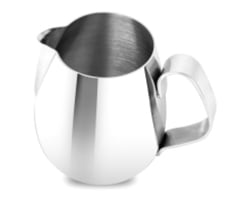 Milk Frothing Jug
350ml £27.00 exc. V.A.T.
600ml £35.00 exc. V.A.T.
Milk frothing jugs with belly type sides made of 18 heavy gauge high quality stainless steel with a narrow pour spout. A standard steam/frothing jug in the commercial espresso industry.
350ml jug – height is 95mm @ 232g
600ml jug – height is 110mm @ 329g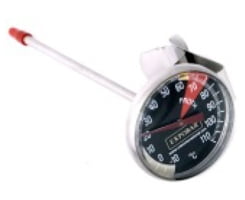 Frothing Thermometer – £7.00 exc. V.A.T.
Milk thermometers are absolutely crucial in creating the difference between drinks like lattes and cappuccinos. Commercial quality stainless steel with built-in clip to secure onto the side of your frothing jug. Temperature range from 0°C – 110°C with a probe length of 125mm and 40mm dial.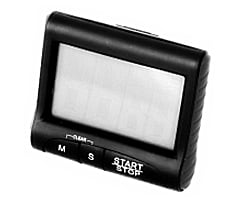 Digital Shot Timer – £12.00 exc. V.A.T.
4 digits display counts 99 minutes 59 seconds with count up/down and 30 second beep alarm. Incorporates a clip-on/stand/magnetic attachments. Easy to operate with 3 keys (min, sec, start & stop) setup panel. Size: 8cm x 7 cm x 2.8cm. Powered by 1 x AAA battery (not included).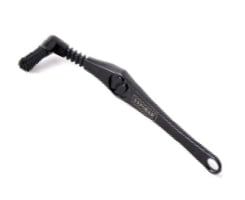 Group Head Cleaning Brush – £3.75 exc. V.A.T.
Group head cleaning brush with 150mm long handle and angled brush head with 24mm bristles. This enables thorough cleaning of group heads and shower screen without burning your hands. Made from tough polypropylene plastic which is dishwasher safe.