New! Jura Cool Control Basic 1.0
For full details, please click on the PDF link Cool Control 1.0 Basic ProductSheet
Programmed to cool to an optimum 4°C / 39.2 °F
Compatible with all Jura automatic speciality machines
Optional Wireless Transmitter available
1.1 litres capacity
High-quality, dishwasher safe stainless steel container
Weight: approx. 1.9kg
Cable length: approx. 1.8m
Dimensions H 22.5cm x D 22cm x W 14.5cm
New! Jura Cool Control 2.5 litre

For full details, please click on the PDF link Cool Control 2.5 litre milk chiller
Programmed to cool to an optimum 4°C / 39.2 °F
Compatible with all Jura X and Giga X machines
Optional Wireless transmitter available
2.5 litres capacity
High-quality, dishwasher safe stainless steel container
Weight: approx. 3.4kg
Cable length: approx. 3.3m
Dimensions H 23.5cm x D 32cm x W 15cm
Jura Combicool Milk Fridge

For full details, please click on the PDF link CombiCool Fridge ProductSheet
Compatible with GIGA X3 and all Professional models
Energy-saving on/off function
Automatic temperature control to 4°C
4 litres capacity
Dimensions H 44.5cm x D 46cm x W 22.5cm
Jura Universal Milk Fridge

For full details, please click on the PDF link Universal Fridge ProductSheet
Compatible with all Professional models
Energy-saving on/off function
Automatic temperature control to 4°C
4 litres capacity
Dimensions H 48.5cm x D 48cm x W 23cm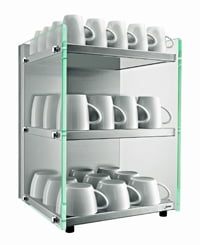 Jura Glass Cup Warmer
For full details, please click on the PDF link Glass Cup Warmer ProductSheet
High quality clear glass
Holds 100 espresso cups or 60 coffee cups
Energy efficient and silent operation
Cable length: 2m
Dimensions H 45cm x D 32cm x W 32cm
Jura Cup Warmer
For full details, please click on the PDF link Jura Cup Warmer
Programmable switch on/off
Holds 5 espresso cups, 4 coffee cups or 6 cappuccino cups on two levels
Energy efficient and silent operation
Cable length: 1.1m
Dimensions H 30.5cm x D 35cm x W 12.5cm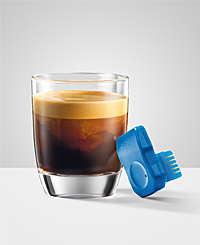 Jura Smart Connect
Controlling your automatic coffee machine via your smartphone or tablet is now easier than ever before! The new "JURA Smart Connect" uses Bluetooth® communication based on a transmitter that is simply plugged into the service socket of the coffee machine. With the app you can then wirelessly operate and program the machine and link up to various accessories. J.O.E.® (Jura Operating Experience) is the most intuitive, convenient and modern way to make optimum use of all the advantages offered by JURA automatic speciality coffee machines. Models equipped with Smart Connect include the Giga X8 Gen 2, Giga X8c Gen 2, Giga X3 Professional, Giga X3c Professional, X8, X6, WE6 & WE8.
Additional Information
25 months' warranty from date of purchase
Jura Cashless Compact Payment Box

For full details, please click on the link Cashless Compact Payment Box
Accounting made easy! The compact, simple box with built-in MDB interface can be adapted to the user's requirements. Equipped with the Nayax accounting system*, the Cashless Compact Payment Box allows users to pay for speciality coffees by credit card. It is compatible with all Professional machines from the GIGA line. Messages are shown on the coffee machine's display, while price and product management is performed on the computer.
*not supplied as standard
Jura Professional Fine Foam Frother G2

The new professional fine foam frotherG2 is made from the highest-quality materials and has a stunning look and feel. Specially designed for the preparation of speciality coffees with milk and milk foam, it makes latte macchiato and other beverages with the very best fine-textured foam every time and never fails to impress with its particularly intuitive operating concept. Compatible with Jura WE8.